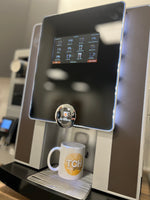 SO Coffee partners with award winning contact centre
The Consumer Helpline, part of the TCH Group


SO Coffee is excited to announce its new partnership with award winning contact centre The Consumer Helpline.

SO Coffee will be providing high-quality Welsh-roasted coffee to all employees, clients and guests throughout The Consumer Helpline's client hub, boardroom and breakout areas.


The new partnership is destined to evolve over the next few years with the vision of driving employee incentives, sustainability and to showcase a true
demonstration of two Welsh companies coming together to make a difference.

The Consumer Helpline now have specialist coffee machines throughout their UK offices to fuel important board meetings, provide freshly roasted high-quality hot drinks to visitors and clients in the client hub and staff within the breakout rooms.

SO Coffee's passion is to work closer with the local community, encourage local producers, businesses and to provide the most premium service to our clients. 

Both parties have already demonstrated collaboration by coming together to
produce dual branded fully sustainable, eco friendly, non-spill reusable cups as a gift to every employee and representative of the whole TCHGroup. 




From speciality espressos, flat whites, cappuccinos, hot chocolates and much more! Employees can now enjoy luxury drinks on a daily basis. 

Within the breakout rooms SO Coffee have provided The Consumer Helpline with their first ever touch screen hot drink vending machine. The video games go down a treat with the employees whilst they wait for their drink to be brewed. An exciting new product that has already made a positive impact to the employees of the company.



Company Director of SO Coffee, Scott Otten said: "SO Coffee is proud to work with an award-winning company such as The Consumer Helpline. Their vision to grow as a company by supporting the well-being and experiences of their employees is truly inspiring. We pride ourselves in providing customers with quality, local Welsh produce, whilst encouraging sustainability across our business."

"Our ethos is based upon bringing people together, through the luxury of a cup of coffee, whilst giving back to employees and the local community. It is an honour to work alongside The Consumer Helpline, part of the TCHGroup to enhance the culture with their workplace."


Managing Partner and Founder, Lee Watson from The Consumer Helpline, part of the TCHGroup had these words to say. "Right from the early conversations with Scott and his team, we knew our values and "can do" attitudes were aligned. His tenacity to see a challenge and come up with a solution was refreshing.
We have recently moved into a new building for our UK HQ and have taken the opportunity to enhance our benefits packages for employees. We hire local people here in Swansea and we work with local suppliers to support our initiatives. Scott came up with three different solutions to allow us to offer subsidised hot drinks to employees, our clients and our visitors. These solutions range from vending machines to coffee pots that make our boardroom smell like you are stepping into our own coffee house and in our client hub we have another type of machine to carry on the relaxed aroma throughout.
Creating a sustainable environment here in the office is important to us and our employees, we like that this is also important to the SO team. We have already worked on our first collaboration of creating dual branded coffee mugs for our employee, that are eco-friendly, look AMAZING and are easy to reuse. We look forward to a long evolving relationship."