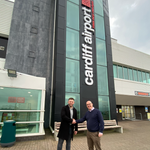 10th February 2022
Cardiff Airport partners with SO Coffee to fuel passengers'
journeys
Cardiff Airport is excited to announce its new partnership with Swansea-based coffee brand SO Coffee, who will be providing high-quality locally-roasted coffee to travelling passengers in the terminal and 51° Executive Lounge.
SO Coffee was founded by former professional rugby player Scott Otten, whose passion for local producers, community and great coffee led him to create SO Coffee's Welsh roasted coffee blends.
Thanks to the partnership, Cardiff Airport now has two specialist coffee machines for the 51° Executive Lounge and a 'coffee cart' that can be utilised across the terminal, and the airport's Lounge team have received specialist barista training from SO. Travelling passengers can look forward to enjoying speciality espresso, flat whites, cappuccinos and more in the 51° Executive Lounge and on-the-go before their journey.

The coffee cart is an exciting venture for the airport, as it will enable the Cardiff Airport baristas to serve high-quality coffee to passengers throughout the terminal- from check in to the departure gate. The branded coffee cart will also be used for airport events such as route launches and the Six Nations games, where thousands of passengers fly to and from Wales to support their country.
Managing Director of SO Coffee, Scott Otten said: "SO Coffee is proud to play a part in fuelling the journeys of passengers departing from the national airport for Wales. We pride ourselves in providing customers with quality, local Welsh produce, whilst encouraging sustainability across our business.
"Our ethos is based upon bringing people together, through the luxury of a cup of coffee, whilst giving back to charities and the local community. It is an honour to work alongside Cardiff Airport to enhance the passenger experience."
Commercial Manager at Cardiff Airport, Lee Smith, said: "We're really excited to be partnering with SO Coffee. Cardiff Airport is passionate about and committed to working with local brands, and we aim to provide a warm Welsh welcome to our travelling passengers, and what better way to do so than by providing our customers with good-quality local coffee before their journey.
"Things are really ramping up for summer as we look forward to an increased flying programme, a new airline, Wizz Air, and lots of passengers excited to jet off on a long-overdue holiday. We are pleased to be working closely with our partners, including SO Coffee, as we welcome more passengers back to the Airport."
David Walters, Chief Financial Officer at Cardiff Airport added: "We're delighted to be working with Scott at SO Coffee, and are pleased to be able to further improve the customer journey with a speciality coffee offering coupled with fantastic service in both the 51° Executive Lounge and on-the-go in the terminal."