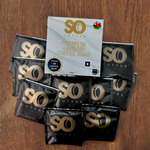 At the start of 2022, we continued working towards our sustainability goals by producing a new Welsh product. One that was ethically sourced, fully sustainable and of course, produced in Wales.
After several months of market research and consumer testing, we finally brought to market our Premium Ground Coffee Bags.
It was important to us that not only did the product stand out on a shelf, but it was easily identifiable as a Welsh product.
By adding the Welsh Dragon 🏴󠁧󠁢󠁷󠁬󠁳󠁿 on the outer packaging, we hoped to proudly showcase our ethical product that was roasted in Wales, on a National and Global scale.
In addition to the Welsh flag, we also experimented with adding premium gold foil edits to compliment a quality coffee with a high-end design. The white and tidal graphics represent the waves of Swansea beach: The city in which SO Coffee Trades was founded back in 2018.
Sustainability:
Coffee Bags (Biodegradable)
Sachet ♻️
Outer packaging ♻️
Coffee bags are the new in-demand products within our industry. With few companies investing in their production within Wales, we are excited to witness the rise in demand of this product.
There is no 'ideal' consumer for this product, whether located in a stadium kiosk, a hotel room or simply left in your car ready for a road-trip coffee, this product is revolutionising the coffee industry.
www.socoffeetrades.co.uk | SO Coffee