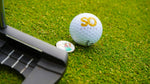 On the 16th and 23rd June 2023, two Welsh companies collaborated to support Mind Swansea and Parkinson's Wales.
SO Coffee and Fresh Turf Landscaping teamed up to organise two golf day's at Fairwood Park Golf Club to raise as much awareness as possible for two wonderful charities. 
Over the course of the two days 38 teams entered with over 150 golfers taking part.
Company director Scott Otten said:
'I want to take the opportunity to thank Darren Hughes and Fresh Turf Landscaping for not only partnering with us this year, but for giving us the opportunity to support your chosen charity, Parkinson's Wales.'
'A huge thanks to all golfers, individuals and businesses who participated and/or supported via sponsorship or donations. Your generosity allowed us to deliver two fantastic days in aid of Mind Swansea and Parkinson's Wales, raising awareness and funds in the process.'
'To have raised £3,500 for Mental Health and £3,500 for Parkinson's is a real achievement and again, we are completely humbled by your generosity. 
If you are interested in joining us in 2024 please get in touch ⛳️
socoffee@socoffeetrades.co.uk